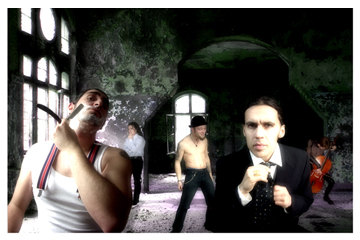 | | |
| --- | --- |
| Philip Breuer: | vocals, lyrics, concepts |
| Patrick Damiani: | guitars, song-writing & orchestration, arrangements, studio bass |
| Yves Blaschette: | main song-writing & orchestration, guitars, piano , cello |
| Michel Spithoven: | drums |
| Ingo Merten: | live bass |
Founded in southern Luxembourg in late 1996, LE GRAND GUIGNOL (back then acting under the name of Vindsval) release a first raw demo in 1997.

Soon they discover their passion for outré compositions, preserving the harshness of extreme metal, yet adding wickedly catchy tunes, symptomizing in deep-felt emotions and thus creating gloomy atmospheres, which the band refers to as "grotesque metal".

The debut-album "Imperium Grotesque", which was originally intended as another demo, was recorded and released in 1999 and was re-released with a different artwork in the following year by Skaldic Art Productions.

After a very long recording-session and reconsidering both musical and lyrical concepts, coherence had Vindsval change their name into LE GRAND GUIGNOL at the dusk of 2006.

In 2007, Maddening Media prepares the stage for LE GRAND GUIGNOL, who hereby unleash upon the audience a chef d 'oeuvre of yet unheard grandeur and grotesque sublimity, carrying the haunting name of "The Great Maddening".

Just like their namesake (a french genre-theatre who opened its doors at the blade-crossing of the 19th and 20th century), LE GRAND GUIGNOL rise the curtain and let the public partake in their enrapturing tales of madness.
LE GRAND GUIGNOL
ABSTRACT RAPTURE
UNINVITED GUEST
CARACH ANGREN
CARACH ANGREN
IKUINEN KAAMOS
The Great Maddening
2007
MAD001A-CD

Democadencia
2008
MAD002A-CD
Malice in Wonderland
2008
MAD003A-CD
Lammendam
2008
MAD004A-CD
Death Came Through
A Phantom Ship
2010
MAD005A-CD
Fall Of Icons
2010
MAD006A-CD